As an Amazon Associate, I earn from qualifying purchase.
A good vegetable knife is essential for any chef, home cook, or aspiring cook. Whether preparing a salad, chopping vegetables for a stir-fry, or slicing tomatoes for a sandwich, a good vegetable knife makes the task easier and more efficient. But what makes a good vegetable knife? This blog will explain the characteristics of a good vegetable knife and what to look for when choosing one.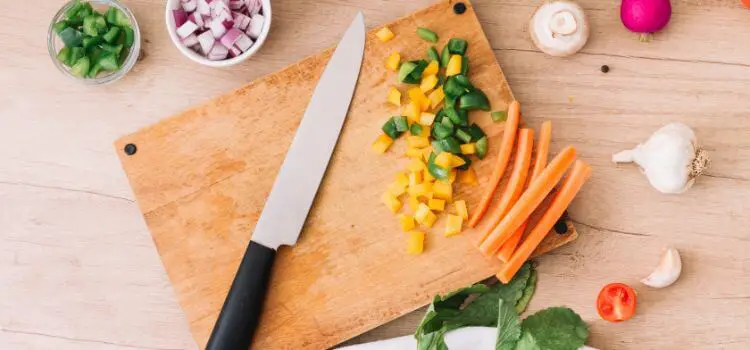 Are you looking for the perfect vegetable knife? Discover Best Knives for Vegetable Cutting and what makes a good vegetable knife as well as what to look for when choosing one. Read on to find out more!
Introduction
When it comes to cooking, knives are one of the most important tools. They are the workhorse of any kitchen and are essential for preparing any dish. But not all knives are created equal. Every knife is intended for a certain use, and using the wrong knife can make cooking a frustrating experience.
That's why choosing the right knife for the job is essential, especially regarding vegetables. In this post, we'll examine what makes a good vegetable knife and give you the knowledge you need to make the best choice.
Characteristics of a Good Vegetable Knife
A good vegetable knife should have the following characteristics:
Sharpness
The most important characteristic of any knife is sharpness. A sharp blade makes cutting easier and safer. Look for a vegetable knife with a sharp, straight blade that can hold its edge well.
Comfortable Handle
The knife handle should be comfortable to grip and provide good control. The handle should be made of a non-slip material and fit comfortably in your hand. A comfortable handle allows you to work efficiently and reduces the risk of hand fatigue.
Durability
A good vegetable knife should be durable and able to withstand regular use. Look for a knife made of high-quality materials resistant to rust and corrosion. Stainless steel and high-carbon steel are popular materials for vegetable knives.
Blade Shape
Another key factor is the blade's form. A vegetable knife should have a flat, straight blade for precise slicing and chopping. The blade should be thin and flexible enough for easy maneuvering around vegetables.
Length
The length of the blade is a matter of personal preference. A vegetable knife typically ranges from 6 to 8 inches in length.
Flexibility
A vegetable knife with a flexible blade is ideal for cutting through delicate vegetables like tomatoes and herbs. A more rigid blade is better for tougher vegetables like carrots and potatoes.
Types of Vegetable Knives
Several types of vegetable knives are available, each with unique features and advantages. Here are the most popular types of vegetable knives:
Nakiri
The Nakiri knife is a Japanese-style vegetable knifes with a rectangular blade. It is suitable for chopping and cutting vegetables and has a flat blade that makes it easy to scoop vegetables. The Nakiri knife is not designed for cutting through bone or other hard materials.
Santoku
The Santoku knife is a Japanese-style all-purpose knife for cutting vegetables, meat, and fish. It has a shorter and wider apron than a traditional chef's knife and a flat blade, making it ideal for chopping and slicing vegetables.
Usuba
The Usuba knife is another Japanese-style vegetable knife that has a rectangular blade. It is similar to the Nakiri knife but has a single bevel edge, which makes it ideal for precise cuts.
Chinese Cleaver
The Chinese cleaver is a versatile vegetable knife with a rectangular blade and a thick spine.
How to Choose the Right Vegetable Knifes
When choosing a this knife, consider the following factors:
Type of Vegetables You Will Be Cutting
Different vegetable knives are better suited for cutting different types of vegetables.
Your Skill Level
Consider your skill level when choosing a vegetable knife. If you are a beginner, choose a knife that is easy to handle and maneuver.
Your Budget
Prices for vegetable knives can range from a few dollars to several hundred. Investing more in a high-quality knifes can save you money when choosing a vegetable knifes.
How to Maintain a Vegetable Knifes
Proper maintenance is important to keep your vegetable knifes in good condition. Here are some tips for maintaining your knife:
Cleaning
After each use, clean your vegetable knifes with warm, soapy water and a soft sponge. Dry the knife thoroughly before storing it.
Sharpening
Sharpen your veggie knife frequently to keep it in good shape. Your knife can be sharpened using a honing rod or a sharpening stone.
Storage
Store your vegetable knifes in a knifes block or magnetic strip to protect the blade and prevent it from getting damaged.
Conclusion
Investing in a top vegetable knifes is essential for any home cook. A good vegetable knifes should be sharp, comfortable, durable, and flexible. When selecting a vegetable knifes, consider the kinds of vegetables you'll be cutting, your level of expertise, and your budget.
Proper maintenance, including cleaning, sharpening, and storage, is important to keep your knife in good condition.
FAQs
Can I use a regular chef's knife for cutting vegetables?
Yes, a regular chef's knife can be used for cutting vegetables, but a vegetable knifes is designed specifically for cutting vegetables and may be more efficient.
What distinguishes a Santoku knife from a Nakiri knife?
The Nakiri knife has a rectangular blade, while the Santoku knife has a wider blade and a more curved edge.
Can I sharpen my vegetable knifes at home?
Use a honing rod or sharpening stone to hone your vegetable knifes at home.
How often should I sharpen my vegetable knifes?
Regularly sharpening your veggie knife may be beneficial, depending on how frequently you use it. Knives should typically be sharpened every few months or whenever you sense that they are getting dull.
Do I need to oil my vegetable knifes?
No, vegetable knives do not typically need to be oiled. However, you should thoroughly clean and dry your knife after each use to prevent rust and corrosion.