As an Amazon Associate, I earn from qualifying purchase.
Are you tired of drinking warm beverages during the hot summer months? A countertop ice maker could be the ideal solution. It keeps an endless supply of ice without carrying up a lot of space in your kitchen. This blog will describe how to clean a countertop ice maker step by step.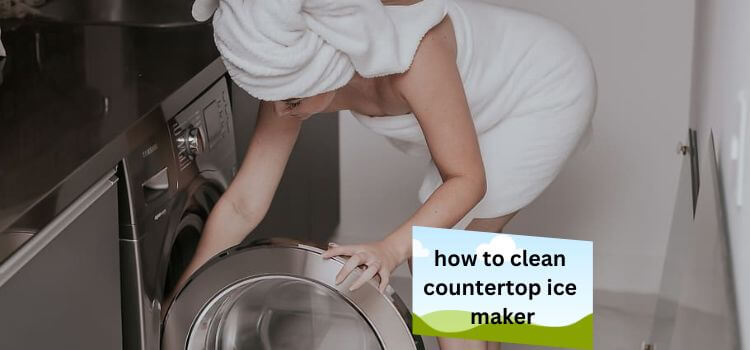 Introduction:
A machine that makes ice is known as an ice maker, making it a convenient and popular appliance in many homes. However, regular maintenance is required to ensure the ice maker works correctly. Over time, accumulated dirt, dust, calcium deposits, and other particles can build up in the machine, compromising its performance and leading to foul-tasting ice.
Cleaning and descaling the ice maker prevents this buildup and ensures you always get the cleanest, freshest-tasting cubes. With some care and attention, your ice maker will remain efficient and provide you with perfect cubes all year round.
Why are ice makers so famous in homes and restaurants today?
Ice makers have become incredibly popular in homes and restaurants because they produce large quantities of ice quickly; This is especially beneficial for restaurants, where quick access to ice can mean the difference between a good and a bad customer experience.
Ice makers are also energy efficient, consuming less power than traditional methods and producing clean, fresh ice with minimal effort. Because of their small size, they are simple to install and keep, and their modern design allows them to blend seamlessly into almost any home or restaurant kitchen.
With numerous sizes, styles, and characteristics, finding an ice maker that fits your space and budget is easy. With all these advantages, it's clear why ice makers are gaining popularity in homes and restaurants worldwide.
Importance of cleaning a countertop ice maker:
Cleaning a countertop ice maker is essential for ensuring reliable, optimal performance. Keeping it clean and free of debris can prevent harmful bacteria from forming, which can be transferred to the ice and cause health concerns.
Additionally, it's essential to remove any buildup of sediment or scale that may limit the unit's performance and efficiency. Without regular cleaning, an ice maker can cost more to operate in terms of electricity and water usage and may require more frequent maintenance repairs.
To properly clean the ice maker, you'll need to flush out the interior with diluted vinegar, descale it with a commercial descale, and Wipe away any residual residue with a soft cloth.
Furthermore, you'll need to regularly clean the ice bucket, filter, and other external parts with mild detergent and warm water. Regularly cleaning your countertop ice maker will ensure it runs smoothly and efficiently, providing safe and tasty ice for years.
Types of countertop ice makers available
When it comes to countertop ice makers, there are various options available. For those looking for convenience and portability, small, compact models are perfect for home or office use. These machines can produce up to 26 pounds of ice daily and store up to 1.5 pounds in a removable bin.
For those with a more substantial ice-making requirement, larger freestanding units are available with daily output capacities of up to 50 pounds and storage capacities of 10-12 pounds. There are also built-in models designed to fit into existing kitchen cabinetry and can offer up to 60 pounds of daily output with storage tanks that hold up to 18 pounds.
Whichever type you choose, all countertop ice makers provide a convenient way to get an ample supply of cool, refreshing ice anytime you need it.
Why Cleaning Your Countertop Ice Maker is Important
Cleaning your countertop ice maker is essential for several reasons:
It removes mineral buildup and prevents the formation of slime or mould that can contaminate the ice.
It ensures that the ice maker is functioning efficiently and producing ice at the desired rate.
It extends the lifespan of the appliance and prevents breakdowns.
What You Will Need for how to clean countertop ice maker
Before you start cleaning your countertop ice maker, you will need the following materials:
White vinegar or ice maker cleaner
Warm water
Soft cloth or sponge
Toothbrush
Towel
How to Clean a Countertop Ice Maker: A Step-by-Step Guide
Are you tired of drinking warm beverages during the hot summer months? A countertop ice maker could be the ideal solution. It keeps an endless supply of ice without carrying up a lot of space in your kitchen. However, as with any other appliance, It has to be cleaned on a periodic schedule to guarantee proper operation and clean ice production.
Step 1: Unplug the ice maker from the power source.
Before you begin working on your ice maker, the first step is to ensure safety. Unplug the ice maker from the power source and wait for any remaining current to dissipate. This crucial step will prevent any potential electrical shock or damage to you and your appliance. Once the ice maker is unplugged, you can move on to the next steps of your repair project.
Step 2: Empty out any remaining ice from the machine.
To empty the remaining ice from the machine:
Unplug it from the wall socket.
Carefully lift the lid and tilt the machine forward at an angle.
Use a bucket or bowl to scoop the accumulated ice into the tray.
Once all the ice removes, plug the machine back in and allow it to reset. Ensure the ice chute removes any remaining debris before replacing the lid. When finished, your machine should be ready to begin making fresh ice for your next cold beverage!
Step 3: Clean the exterior components of the ice maker with a soft, damp cloth.
It is essential to clean the external components regularly, To ensure that your ice maker is in perfect working order. Start by gathering a soft, damp cloth and ensuring no dirt or dust has built up on the device. Gently wipe away any debris, taking special care of the machine.
Once the outside is clean and dry, you can be confident your ice maker will continue to perform at its best. In addition to weekly cleaning, keeping an eye on your ice maker's internal components and ensuring all parts are correctly connected is essential. With regular upkeep, you can ensure that your ice maker remains in peak condition for years.
Step 4: Remove interior components and clean them separately with mild soap and water.
Paying attention to detail and taking extra caution is essential for this step. Wear protective gloves, then carefully remove interior components such as shelves, drawers, and knobs. Wash them separately with mild soap and warm water, and dry them thoroughly before reinstalling.
If any parts are particularly dirty or greasy, use a damp cloth to scrub them clean. Be sure to take extra care when reassembling the cabinet, and always double-check that all the parts are lined up and secure before moving on to the next step.
Step 5: Rinse all parts thoroughly.
Before completing any written piece:
Ensure that all parts are sufficiently polished.
Read through the entire article or piece and make corrections as needed.
Pay close attention to grammar and punctuation, as these are often the deciding factor between a merely good piece and one that stands out.
Review for logical flow, continuity of ideas, and clarity of thought.
Rephrase sentences when necessary and consider replacing words with more vivid ones to engage the reader further.
Check for typos and other errors, as these can easily detract from your overall message.
Once the content is reviewed, incorporate feedback from peers and editors to ensure the highest quality of writing.
By taking the time to rinse every part of the writing, readers will be sure to appreciate its brilliance and artistry.
Step 6: Reassemble the interior components and test the machine.
Reassembling the machine requires precision and attention to detail. Carefully insert each component into its designated place and ensure all connections are securely and properly connected. Double-check for any loose wires or damaged parts that may cause the machine to malfunction.
Once everything is in place and secured, power the machine to test if it runs properly. If errors occur, diagnose the issue and make the necessary adjustments, ensuring all potential problems are addressed before fully reassembling the machine. If no errors are present, the machine is ready for operation and can use following its intended purpose!
Tips for Maintaining Your Countertop Ice Maker
Regular cleaning and maintenance of your countertop ice maker ensure it runs smoothly. Below are some tips to help you maintain your countertop ice maker and prevent the buildup of mineral deposits or slime:
Use filtered water to reduce mineral buildup in the water reservoir and ice-making mechanism.
Empty the ice maker regularly to prevent the formation of mould or slime.
Clean the ice maker every 3-6 months or as needed, depending on usage.
Give the machine a deep clean every two weeks using mild dishwashing soap and warm water. Be sure to dry all parts thoroughly after cleaning.
Check the drain hose for blockages every few months and ensure the drainage tray is attached correctly.
Periodically vacuum out any dirt and dust that may have accumulated in the unit or behind it on the wall or countertop surface.
Inspect the door gasket for signs of cracking or excessive wear and replace it if necessary.
Finally, check for leaks in the hoses and connections, replacing any worn parts with genuine manufacturer's parts as the user manual recommends.
Conclusion
Regular cleaning and maintenance are essential to ensure the appliance's longevity and maintain purity and sanitation standards. Removing debris and mould accumulation can also help eliminate foul odours and decrease the risk of foodborne illnesses.
Additionally, regular cleaning will help keep energy costs down and extend the life of your machine. Keeping your countertop ice maker clean is essential for ensuring a safe, healthy, and enjoyable experience every time you use it.
FAQs
How often should I clean my countertop ice maker?
Depending on usage, you can clean your ice maker every 3-6 months or as needed.
May I use bleach to clean my ice maker?
Please do not use bleach to clean your ice maker as it can be corrosive and leave a residue that can contaminate the ice.
Can I make ice with regular tap water?
The recommendation is to use filtered water to reduce mineral buildup in the water reservoir and ice-making mechanism.
What must I do if my ice maker doesn't make ice?
Ensure the appliance is properly plugged in and the water supply is turned on. If the problem persists, refer to the user manual or contact the manufacturer for assistance.
How do I prevent slime from forming in my ice maker?
Empty the ice maker regularly to prevent the formation of mould or slime, and clean the appliance every 3-6 months or as needed.