As an Amazon Associate, I earn from qualifying purchase.
When cleaning pots and pans, many of us turn to our trusty dishwasher to do the job. However, you may have noticed that some pots and pans have a warning label indicating they are not dishwasher safe. But have you ever wondered why? This article explores the reasons behind Why are some pots and pans, not dishwasher safe, warning and provides tips for properly cleaning your cookware.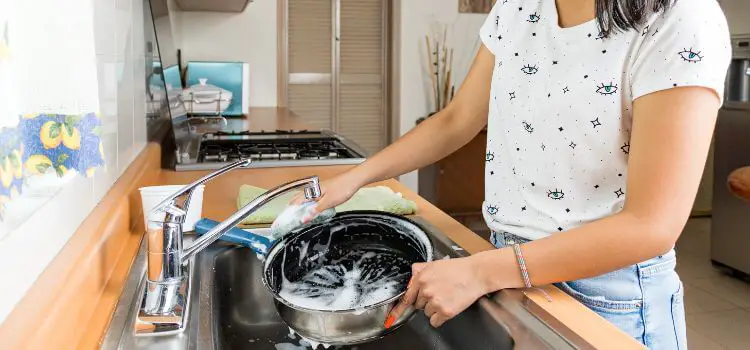 Understanding the Warning Label
Before diving into why some pots and pans are not dishwasher safe, let's first look at the warning label itself. Typically, you'll find this label on the bottom of the cookware or in the care instructions that come with it. The warning may vary slightly depending on the brand, but it usually reads something like this:
"Warning: This product is not dishwasher safe. Hand wash only."
This warning should not be taken carelessly; ignoring it could damage your cookware and create a safety hazard. So, why do manufacturers include this warning? Let's find out.
Beside this, top quality pots and pans are dishwasher safe, so during purchasing cookware you should select best pots and pans that are actually dishwasher.
The Reasons Why Some Pots and Pans Are Not Dishwasher Safe
Reason 1: Damage to Coatings
Many pots and pans are coated with nonstick materials or other types of finishes that the heat and pressure of a dishwasher can damage. Over time, the coating can become scratched or chipped, which not only affects its nonstick properties but can also cause the coating to flake off into your food; This can be a health hazard, so it's important to follow the manufacturer's instructions for cleaning and care.
Reason 2: Corrosion
Some types of metal cookware, such as copper and cast Iron, can corrode in a dishwasher's high heat and humidity; This can lead to pitting and rusting, which not only affects the appearance of your cookware but can also cause it to weaken and break over time.
Reason 3: Discoloration and Staining
Certain types of cookware, such as aluminium and copper, are prone to discolouration and staining when exposed to harsh detergents and high temperatures; This can make your cookware look dingy and unappealing.
Reason 4: Warping and Distortion
Finally, some types of cookware can warp or become distorted in the dishwasher, particularly if they are made of thin or lightweight materials; This is your cookware to keep in good condition.
To keep cookware in good condition Follow the below tips:
Tip 1: Hand Wash with Warm Water and Mild Soap
Most pots and pans are best cleaned by hand with warm water and a bar of mild dish soap. This method is gentle on your cookware and helps to prevent damage to any coatings or finishes.
Tip 2: Use Non-Abrasive Scrubbers
When cleaning your cookware, using non-abrasive scrubbers, such as a soft sponge or a dish brush with soft bristles, is important. Steel wool and other strong scrubbers should be avoided since they can scrape and harm the surface of your cookware.
Tip 3: Avoid Harsh Chemicals
Harsh detergents and cleaning products can be damaging to your cookware, so it's best to avoid using them whenever possible. Instead, use simple dish soap and warm water or a specialized cleaner for your specific cookware.
Tip 4: Dry Thoroughly
After washing your cookware, dry it thoroughly with a soft cloth or paper towel; This helps to prevent water spots and rust from forming and ensures that your cookware remains in good condition for many years.
What Does Dishwasher Safe Mean?
When a product is labelled dishwasher safe, it can resist the high temperatures and strong detergents used in dishwashers. Dishwashers typically use water heated to around 140-160°F and detergents that can be abrasive.
Why are Some Pots and Pans Not Dishwasher Safe?
Not all materials can withstand the heat and detergents used in a dishwasher. Here are some reasons why certain pots and pans are not dishwasher safe:
1. Nonstick Coatings
Pots and pans with nonstick coatings should not be placed in the dishwasher. The high heat and detergents used in the dishwasher can break down the nonstick coating, causing it to peel or flake off.
2. Cast Iron
Cast iron pans should also be hand washed. The high heat and detergents used in the dishwasher can strip the pan's seasoning, causing it to rust.
3. Copper
Do not place Copper cookware in the dishwasher, as harsh detergents can cause discolouration and corrosion.
4. Aluminum
Aluminium pots and pans can react with the detergents in the dishwasher, causing them to discolour and pit.
5. Insulated Cookware
Cookware with insulated bottoms or handles should not be placed in the dishwasher. Water can get trapped between the layers, causing rust and damage to the cookware.
6. Delicate Materials
Pots and pans from delicate glass, ceramic, or porcelain materials should be hand washed to prevent chipping or cracking.
Tips for Washing Pots and Pans
To keep your pots and pans in top condition, follow these tips:
1. Hand Wash
If your pots and pans are not dishwasher safe, hand wash them using a soft sponge or cloth and mild dish soap.
2. Cool before Cleaning
Allow your pots and pans to cool down before cleaning them. Placing hot cookware in cool water can cause warping or cracking.
3. Soak for Tough Stains
For tough stains or burnt-on food, soak the pots and pans in warm soapy water for a few minutes before cleaning.
4. Avoid Abrasive Cleaners
Abrasive cleaners or steel wool can scratch and damage the surface of your cookware.
5. Dry Thoroughly
After washing, dry your pots and pans thoroughly to prevent rust and damage.
6. Store Properly
Store your cookware properly by placing a paper towel between each piece to prevent scratching.
Conclusion
In conclusion, not all pots and pans are dishwasher-safe, and it is important to check the manufacturer's instructions to determine whether your cookware can place in the dishwasher. Following these tips ensures that your pots and pans stay in top condition for years.
Don't take chances by putting your pots and pans in the dishwasher if they are not designed to handle the high heat and detergents used in a dishwasher.
Why are some pots and pans, not dishwasher safe? As we have learned, it's all about the materials used in the cookware. But many of the cookware are best dishwasher safe pots and pans in the market. By understanding which materials can and cannot placed in the dishwasher, you can make informed decisions about how to care for your pots and pans.
Final verdict: Why are some pots and pans, not dishwasher safe?
Certain pots and pans should not wash in the dishwasher for several reasons. One of the common causes is that they constructed of non-dishwasher-safe materials. Nonstick cookware, for example, is frequently coated with a layer of Teflon or another nonstick coating that can harm by dishwashing heat and detergents; this can cause the coating to break down, flake off, and potentially contaminate your food.
Another reason some pots and pans are not dishwashers safe is that they are made of materials that can rust or corrode when exposed to water and detergents for extended periods. Cast Iron, for example, can rust if it is not properly seasoned and maintained, and exposing it to the harsh environment of the dishwasher can cause it to rust even faster. Copper and aluminium cookware can also rust if not properly cared for.
In addition to the material of the cookware, the shape and design of the pots and pans can also make them unsuitable for dishwasher use. For example, pots and pans with rivets, screws, or other small parts can trap food and detergent, which can be difficult to clean and may cause damage over time. The heat and moisture of the dishwasher can also damage pots and pans with wooden handles or knobs.
FAQs
Can I put any cookware in the dishwasher?
No, not all types of cookware are dishwasher-safe. Always check the manufacturer's instructions before placing your cookware in the dishwasher.
What types of cookware should I never put in the dishwasher?
Cookware made of copper cast Iron and nonstick coatings should never be put in the dishwasher.
Can I use a dishwasher for my stainless steel cookware?
While some stainless steel cookware may be dishwasher safe, it's always best to check the manufacturer's instructions first.
Is it safe to hand wash my cookware?
Yes, washing your cookware with warm water and mild soap is safe and effective.
How often should I clean my cookware?
It's a good idea to clean your cookware after each use to prevent the buildup of food particles and grease.