As an Amazon Associate, I earn from qualifying purchase.
If you're remodeling your kitchen or just trying to upgrade the look of your current space, choosing the right color floor to pair with your white cabinets can be a tough decision. Your choice of flooring can either make or break the overall aesthetic of your kitchen. In this article, we'll look at some popular flooring options that pair well with white cabinets and explore different design styles that work best with each and finally you will get the answer of your question what color floor with white cabinets.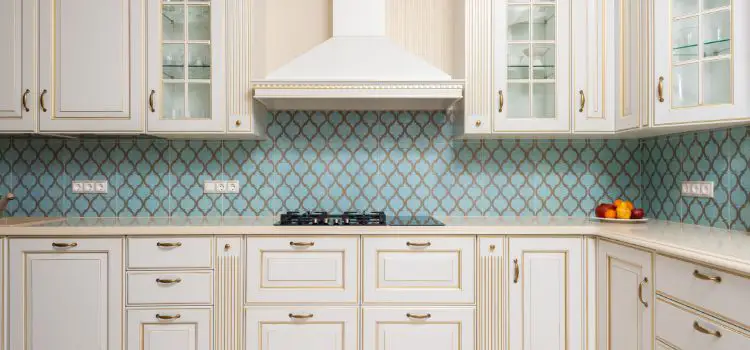 Looking for the perfect floor color to complement your white cabinets? Read on to discover expert advice and creative ideas to help choose the best flooring for your space.
Introduction
White cabinets are a classic and functional choice for any kitchen or bathroom. They create a bright, airy atmosphere, and their neutral color allows you to play with different design elements and color schemes.
However, choosing the right flooring color to pair with your white cabinets can be a bit tricky. You want a floor that complements the cabinets and enhances the overall look of the space. This article will explore expert advice and creative ideas on what color floor goes with white cabinets.
Consider Your Overall Style
Before you start browsing flooring options, it's essential to consider your overall style and the look you're trying to achieve. Do you prefer a classic, traditional look or a more modern, sleek style?
Are you going for a rustic, farmhouse feel or a coastal, beachy vibe? Your cabinet style and color can also influence your flooring choice.
For example, white shaker cabinets look great with a wide range of flooring options, while white flat-panel cabinets tend to work better with more modern and minimalist floors.
Why Choosing the Right Flooring Color is Important
The color of your kitchen floor significantly affects the overall feel and appearance of the room. A white cabinet is versatile and can go well with almost any floor color, but choosing the wrong shade can make your kitchen look dull, uninviting, and even outdated.
The right flooring color, on the other hand, can enhance the beauty of your white cabinets, creating a modern, bright, and cohesive design.
Popular Flooring Options for White Cabinets
1. Dark Hardwood Floors
Dark hardwood floors like mahogany, cherry, and walnut can contrast beautifully with white cabinets. This pairing can create a classic, elegant look that always stays in style. Wear a sleeker, darker wood-like ebony or stained concrete if you want a more modern twist.
2. Light Hardwood Floors
If you prefer a brighter, airy feel in your kitchen, go for light hardwood floors like oak, maple, or hickory. Light wood floors can make your kitchen look more spacious and pair well with white cabinets.
3. Gray Floors
Gray floors are becoming increasingly popular in modern kitchens. This is a neutral color that can pair well with white cabinets and other design elements. Gray floors come in various shades, from light to dark, and can add sophistication and elegance to your kitchen.
4. Black and White Checkerboard
Consider a black and white checkerboard floor if you're looking for a unique and bold design. This classic design style can create a vintage, retro look in your kitchen. Pair it with white cabinets and stainless steel appliances for a timeless, classic design.
5. Natural Stone
Natural stones like marble, limestone, or travertine can create a luxurious and elegant look in your kitchen. It pairs well with white cabinets and can create a timeless and classic design. On the other hand, natural stone flooring can be costly and need regular care to keep them looking its best.
6. Tile
Tile floors come in various colors, textures, and patterns. Use porcelain or ceramic tile if you want a durable and easy-to-clean floor. Choose a neutral color like gray, beige, or cream to pair well with white cabinets. Use a patterned tile, like Moroccan or Spanish, if you want a bolder look.
Design Styles That Work Best with White Cabinets
1. Modern and Contemporary
White cabinets work well with modern and contemporary design styles. Pair them with sleek, clean lines and minimalistic decor to create a bright, open, and airy space. Go for a monochromatic color scheme and add pops of color with decor and accessories.
2. Traditional and Classic
If you want a more traditional and classic look, pair your white cabinets with dark hardwood floors, natural stone countertops, and vintage-inspired accessories. Add warmth to the space with soft lighting, warm colors, and rustic decor.
3. Farmhouse
If you want a cozy, rustic, inviting look, pair your white cabinets with light hardwood floors, open shelves, and vintage-inspired decor. Add a farmhouse sink, rustic light fixtures, and a shiplap backsplash to create a charming and welcoming space.
4. Minimalist
If you like the minimalist look, pair your white cabinets with sleek, modern flooring like concrete, black or white tile, or even polished concrete. Keep the decor simple and clean to create a bright and spacious feel.
5. Coastal
For a beachy, coastal vibe, pair your white cabinets with light hardwood floors, woven rattan chairs, and blue or green decor accents. Add a sea glass backsplash and open shelving to complete the look.
How to Choose the Right Floor Color
Choosing the right floor color to pair with white cabinets can be daunting. Below are a few tips to make the right choice:
Consider the amount of natural light in your kitchen. If your kitchen gets a lot of natural light, you can go for darker floors. Choose lighter floors to brighten the room if it's a darker space.
Look at the other design elements in your kitchen, such as countertops, backsplash, and appliances. Make sure your floor color complements these elements.
Consider your style and the design style you want to achieve. Do you want a modern, minimalist look or a classic, traditional feel? Choose a floor color that matches your style.
Conclusion
Choosing the right floor color to pair with white cabinets can be challenging, but you can create a beautiful and cohesive design with the right tips and inspiration.
Whether you prefer light or dark floors, natural Stone or tile, or a specific design style, there's a perfect floor color for you.
Read another article: Best Place to Buy Kitchen Knives : Your Ultimate Guide
FAQ
Can I mix different types of flooring in my kitchen?
Yes, you can mix different types of flooring in your kitchen, but it's essential to do it strategically to create a cohesive look.
Is it better to have light or dark floors in a kitchen?
It depends on your personal preference and the overall design style you want to achieve. Light floors can make your kitchen look brighter and more spacious, while dark floors can create a more elegant and classic feel.
What's the best type of flooring for a busy kitchen?
Porcelain or ceramic tile, hardwood, and luxury vinyl are all great options for a busy kitchen.
Can I paint my kitchen floor?
Yes, you can paint your kitchen floor, but use the appropriate type of paint and prep the surface properly beforehand.
Do I have to match my floor color to my cabinets?
No, you do not have to match the color of your floor to the color of your cabinets, but make sure the colors complement each other and create a unified effect.